Promotion of a Sports Goods Online Store
PROMOTION OF A SPORTS GOODS ONLINE STORE — ROI 135%
The dynamics of traffic growth and a step-by-step description of all stages of sports goods website promotion, which resulted in 135% ROI (a financial ratio that illustrates profitability).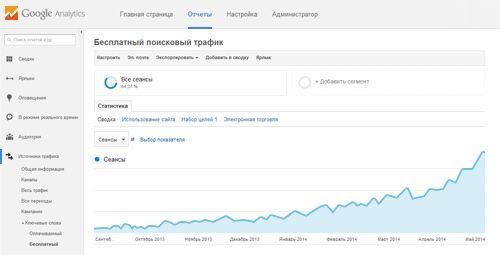 Analysis and audit
At the very beginning, we determined top-priority categories of the online store. The estimation was based on margin rate and the process of goods circulation from the manufacturer to the final consumer. After that, we analyzed competitors and planned the future work on online store backlinks. Then we performed an audit of website content and completed a list of recommendations.
Monthly work
The set of monthly tasks includes:
monitoring of critical alerts from Yandex/Google Webmasters;
fixing problems and monitoring the content of the online store;
estimation of the indexing status of pages;
analysis of search bots scanning dynamics;
monitoring security settings;
sending main Google Analytics reports;
selective analysis of text uniqueness;
analysis of errors made by bots during scanning.
Content optimization and strategy development
The work on content was divided into several stages:
creation of content for categories;
creation of unique product cards;
writing reviews;
work with information and news material;
creation of help articles to assist customers.
As the budget was limited and the online store managers and owners could not dedicate enough time to the online store promotion, every month we did only a part of the tasks on content. Based on the analysis of competitors we developed a strategy on linking mass.
For website contextual advertising we used the same priority categories as for search engine optimization.
However, during the work we faced the following problems:
It appeared that the client didn't have enough funds to fully cover the demand on target keywords in the most profitable categories.
The manufacturer regularly ran out of the majority of goods in their stock, so we constantly were forced to modify our promotional campaigns.
The margins of the most effective categories decreased, so at the client's request we refused from them.
During 7 months, the priorities were several times changed due to seasonal changes in customer demand.
These aspects influenced our decision to concentrate on the segments of brands and models which include transactional words. In addition, we chose categories and suppliers that more often had goods in stock. Hence, the promotional campaign was carried out as effectively as the external factors based on the client's influence on the website allowed us.

ROI ON SEO CHANNEL:
Margin: 20%
Gross profit: 412,609 UAH * 0.20 = 82,521 UAH
Promotion cost: 3,790 UAH/month (30,320 UAH for 8 months)
ROI = (82,521 – 30,320) / 30,320 * 100 = 175%
ROI ON CONTEXTUAL ADVERTISING CHANNEL:
Gross profit: 111,772 UAH * 0.20 = 23,154 UAH
Promotion cost: 2800 UAH/month
(19 600 UAH for 8 months)
ROI = (23,154 – 19,600) / 19,600 * 100 = 18%
TOTAL ROI
Gross profit without test purchases:
588,660 UAH * 0.20 = 117,732 UAH
Total promotion cost: 49,920 UAH for 8 months
ROI = (117,732 – 49,920) / 49,920 UAH * 100 = 135%